You just bought a brand new guitar and now you have to get a case too!? It feels like an unnecessary cost, and on top of that it's more expensive than you'd hoped. In this article, we explore why guitar cases are so expensive, the different styles, and even recommend the best hardshell case and gig bag for your money.
Let's face it, guitar cases are expensive and sometimes it is difficult justifying that cost for something that isn't part of the guitar or a fun accessory like a capo or an amplifier. Guitar cases are expensive because of the material costs for quality options, and the shipping costs associated with bulky items which are sometimes imported overseas.
As a rule of thumb, you should be spending at least 6% – 15% of the total guitar price on a case either hardshell or gig bag.
First we'll look at the features that determine the quality of a case, then we'll answer the question, "how much money should I spend on a case for my guitar?"
Why Are Guitar Cases So Expensive
While guitar cases seem incredibly overpriced at first glance, let's take a look at the reasons that cases cost what they do.
High cost of quality plied wood or molded plastic,
High cost of quality latches and hinges
Precision in the manufacturing that ensures a tight closure
Quality of build determines the level of protection your guitar will receive.
Bulky items always carry high shipping costs.
Hardshell Case Materials
There are two main types of materials for hardshell cases, these are molded plastics and wood. Wood cases are made from plywoods, shaped, and then covered in tweed or tolex for the outside, and lined with soft padding or a plush material on the inside.
While plywood is typically quite strong and resistant to being knocked around, the quality of the outer covering says a lot about the overall quality of the case. If the outer covering allows moisture and the elements to get to the plywood, the lifespan of the case and its ability to protect your guitar are going to decrease significantly.
Wood cases look great, offer decent protection, and are associated with some of the higher end guitars on the market. Buy a nice Martin or Gibson, and there's a good chance it will come with a hardshell wood case designed specifically for that model of guitar.
The downside of wood is that it doesn't offer great impact protection. For this reason, never leave wood cases sitting upright where they might fall over, and certainly don't check a guitar in a wooden case on an airplane. There are plenty of examples where this has gone terribly wrong.
Molded Plastic
Molded plastic cases, on the other hand, offer great impact resistance, good humidity control, and can come with TSA approved locking latches. TSA latches are awesome, and I much prefer this style to the standard metal latches found on nearly all wood cases and many plastic molded cases.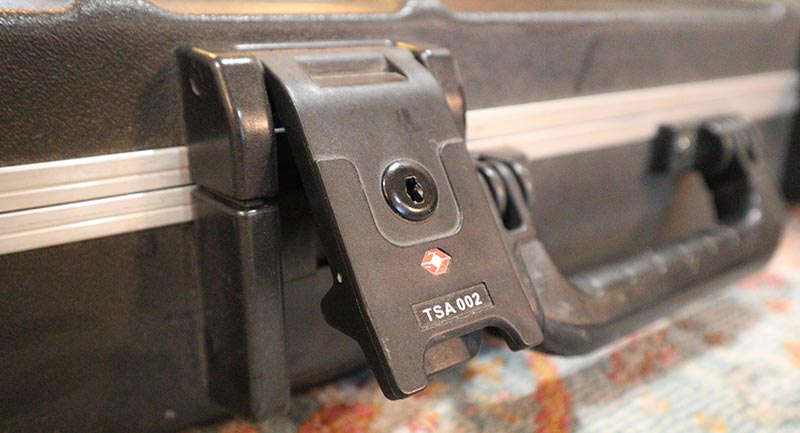 What exactly is a TSA approved latch? A TSA latch contains a lock that TSA can unlock with a master key in the event that they want to physically inspect the inside of the case. And while this may seem like an invasion of privacy, the alternative is that they brute force their way into the case to get a look at whatever tipped them off. I'd much rather they admire my guitar gracefully than rip a latch off the case in the pursuit of security.
Latches: Normal Vs Locking TSA
A TSA latch only refers to the ability for TSA to be able to unlock the case with their master key. However, the design difference between standard metal case latches and these is pretty significant. Take a look at the difference below. The TSA latches are much better at staying securely shut, and do an incredible job at pulling the lid of the case snug.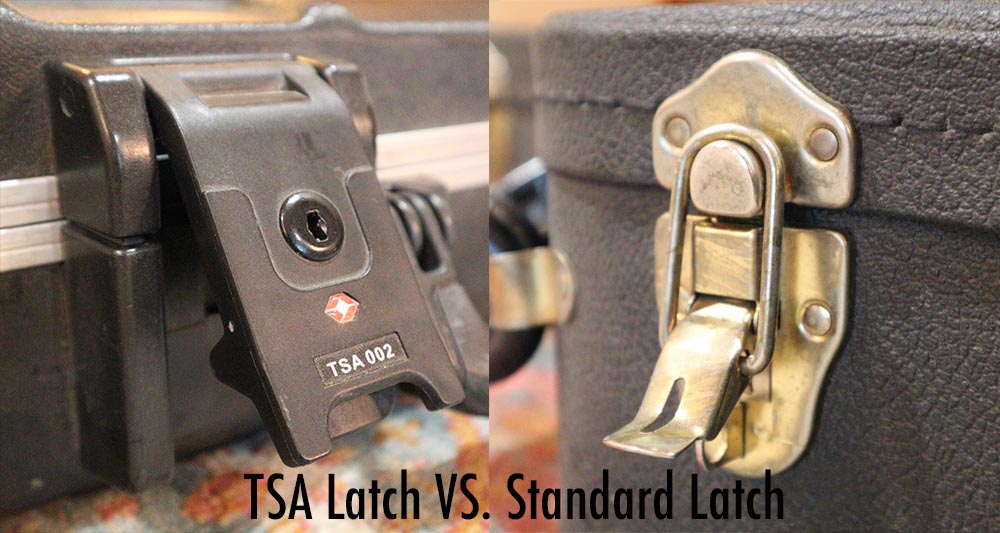 If I could have these style latches on all of my cases I absolutely would. These are the best case latches by far, and I consider them worth the cost.
Hinges
Quality hinges make a massive difference in the overall lifespan of a guitar case. While you might not notice in the first couple hundred opens and closes, the hinge and where the hinge secures to the case is generally the first place to show signs of wear.
One of the reasons that guitar cases are so expensive is because they are high use, high wear items that need to be heavily engineered and designed to handle the abuse.
If a guitar case has a lid strap like the one pictured below, make sure that that stays secure and in good condition. This strap stops the lid swinging too far back which would damage the hinge or the hinge connection. If this stop is not there, there's a good chance the hinge will break, or the weight of the lid will pull the hinge off the body of the case. This can be a costly and difficult repair depending on the case material, and most often requires the entire case to be replaced.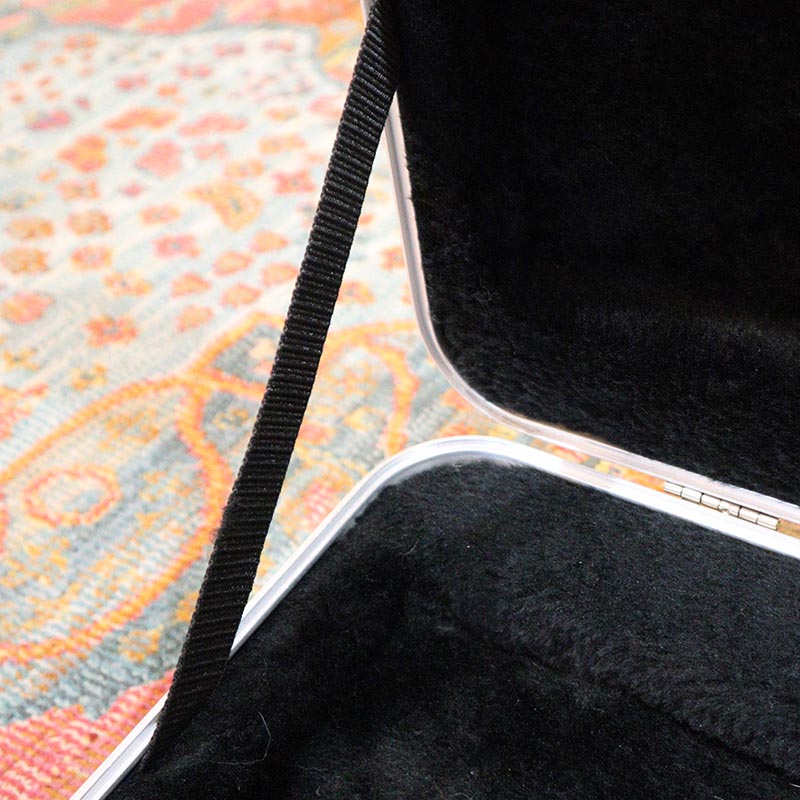 Gig Bags
High quality gig bags are made from thick materials like canvas, heavy nylon, and sometimes leather. Stitching will use thick thread and be done neatly, and zippers will be heavy duty with large tabs.
Many people are surprised by the expense of a nice gig bag. Leather gig bags will easily run $400 – $500 and many guitar players are happy to pay that for something quality that will protect their guitars and last forever.
---
How Much Should You Spend on a Guitar Case?
These are some general costs using our rule of thumb figured out below. The rule of thumb is to spend 6% – 15% of the new guitar price on a guitar case.
Buying a case and therefore the amount you spend on it is going to vary significantly depending on the needs, type of guitar, climate you're in, and specialized uses like travel or touring. Use these prices as general guidelines for how much to spend on a guitar case.
| Total Guitar Cost | Low End Case Cost | High End Case Cost |
| --- | --- | --- |
| < $500 | $30 | $75 |
| $500 – $1000 | $60 | $150 |
| $1000 – $2000 | $120 | $300 |
| > $2000 | $200 | $500 |
Let's take a look at some examples of guitars and the retail case costs that are provided with them. For this data set, I gathered only guitars that are sold with a case and instances where that same case is made available by retail to the public. Most manufacturers don't sell the exact same case separately as is included with a new model guitar. In these circumstances I found the case that is offered most like the one included.
Type of Guitar
Total Guitar Cost
Type of Case (or closest equiv.)
Case Cost
Case cost % of total cost
Fender American Original Stratocaster
$1949.99
Classic Series Wood Case
$159.99
8.2%
Fender American Ultra Stratocaster
$1999.99
Deluxe Molded Case
$199.99
10%
Fender Professional Stratocaster
$1449.99
Deluxe Molded Case
$199.99
13.4%
Fender American Performer Strat
$1149.99
Fender
FE610
$69.99
6.1%
Gibson Les Paul Standard
$2499
Les Paul Hardshell Case
$199.99
8%
Gibson ES-335
$2999
ES-335 Hardshell Case
$219.99
7.3%
Gibson SG Standard
$1799
SG Hardshell Case, Black
$199.99
11.1%
Gibson J45
$2699
Dreadnought Hardshell Case
$219.99
8.2%
Martin D18
$2499
Martin C345 Hardshell
$149.99
6%
Martin D28
$2899
Martin C640 Molded Case
$189.99
6.6%
What does this analysis provide? While guitar manufacturers factor in case prices based on profitability, case quality is largely matched to quality of guitar and position in their offering lineup. This data provides a pretty good rule of thumb for case costs vs guitar costs. You should be spending 6% to 15% of the guitar's cost on a case. 
Of course, it makes sense to buy the best case that you can afford as it will protect your guitar investment and you'll be able to use it for multiple guitars as you upgrade throughout the years.
Best Electric Hardshell Case For Your Money
I'm a huge fan of the SKB and Gator hardshell cases that feature the TSA style latches. These latches are not the cheap metal ones that feel like they're going to fall off in a year, and they keep the guitar case solidly closed and also tightly locked. 
The old hardshell molded case that came with my Strat is from SKB and that case is really great. Gator cases are a similar quality and will do a great job protecting your guitar.
Best Gig Bag For Your Money
Gig bags should not be seen as the cheaper option to a hardshell case. While gig bags are most often cheaper, they should be built with solid construction and plenty of padding in order to keep your guitar safe. 
Gig bags in the $20 – $60 range are typically very light weight and offer the bare minimum amount of protection. Unless you need something very simple and aren't worried about your guitar being dinged up, spring for something a bit nicer. Here is my choice for a great gig bag. 
The padding is thick, and comes with a block of padding specifically for the neck which is important for keeping the guitar from moving insight the case. The bottom has an exterior of thick rubber which is an important piece of protection that lesser expensive gig bags will leave out.
Guitar Case Prices Compared to Other Hardshell Cases
Finally, let's take a look at our recommended hardshell electric SKB case compared to other, common hardshell cases for non-guitar items.
| Case Type | Price | % Difference from Guitar Case |
| --- | --- | --- |
| SKB Hardshell Strat Case | $186.99 | 0% |
| Pelican 1490 Laptop Case | $164.95 | -11.8% |
| SKB 2011-7 Camera Case | $252.89 | +35.2% |
| Cabellas Molded Single Gun Case | $109.99 | -41.2% |
Obviously, you could find cheap hardshell cases and incredibly expensive hardshell cases, but I wanted to show a handful of similar cases and their prices for comparison. Hardshell guitar cases are in the middle of the hardshell case market. When looked at it from this perspective, these guitar cases don't seem so expensive. 
In the same way that you want to protect your firearm, camera, laptop, or other sensitive gear, a hardshell guitar case is always worth the investment. The repair cost will far outweigh the cost of a good guitar case if damage occurs.